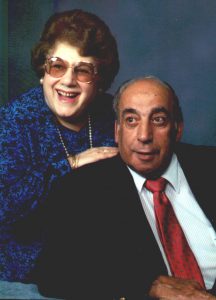 Tom and Louise Joseph believed firmly in the institution of family and hard work. Those values were instilled in all of their children and grandchildren. Since 1975, Joseph's Catering Service has been a Western New York family owned and operated business serving guests from Buffalo, Depew, Williamsville, Lancaster . . . all over WNY. We are a full service catering establishment. We cater weddings, rehearsal dinners, bridal showers, baby showers, graduations, corporate meetings and functions, retirement parties, picnics and more. At every event, one of our owners / managers will personally insure that you receive the quality and service that meets our high standards. No matter what size your event is, we are dedicated to providing world-class products and service.
Did you know Josephs Catering was the exclusive caterer for the Buffalo Bills from 1983 to 1988. From 1989 to 1990 we were the Buffalo Bills consultants during their Super Bowl appearances. We prepared food for pregame tent parties for up to 1,000 guests outside the stadium. We provided superior quality food and service for over 50 executive suites, the press box and a healthy variety of food for the coaches, administrative staff and players daily.
Did you know that all of our venues are FREE when you book a full dinner and alcohol bar while meeting the minimums!
SPECIAL WINTER DISCOUNTS
Are you trying to plan a wedding or special event on a budget? January, February, March and November are great months to consider. You know it's going to be cold but what's better than cozying up to a warm fire … beautiful iced trees in your pictures … being comfortable while you are dancing … and SAVING money while you do it? You can save up to 8% off by calling the office at 681-4538 and finding out more !
See what previous satisfied customers have to say on Facebook. Josephs Catering on Facebook
See what satisfied guests have to say on the Wedding Wire where we are award winners since 2014. Wedding Wire